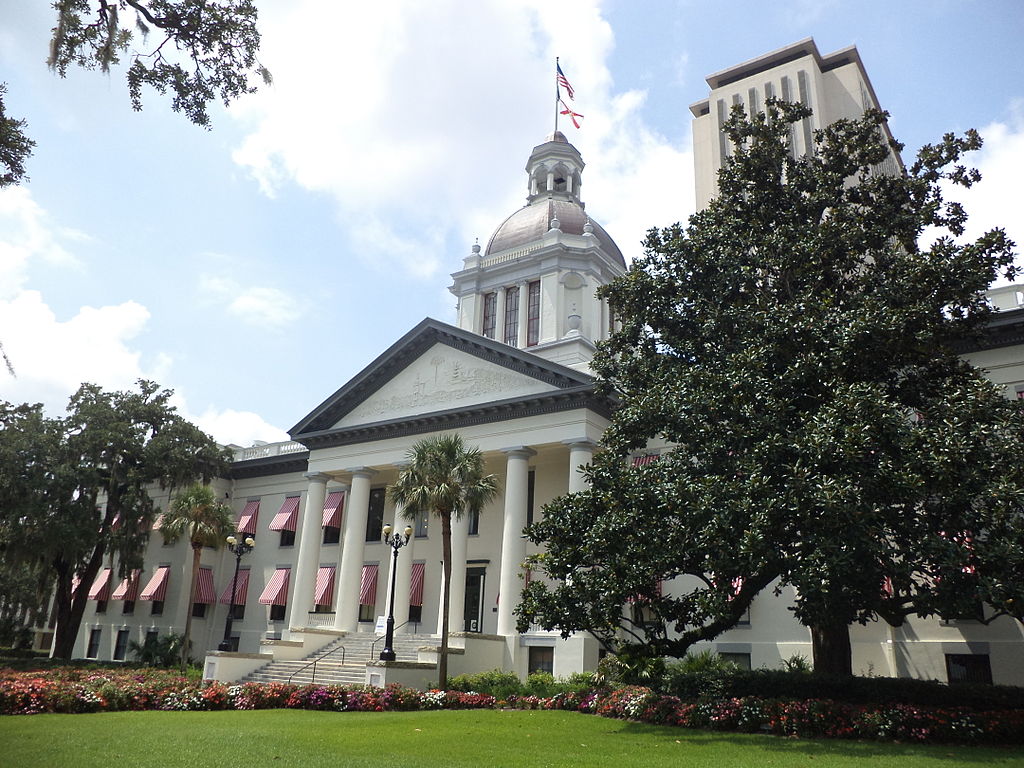 Florida State Capitol Building in Tallahassee (Photo credit: Michael Rivera/Wikimedia Commons)
A federal court on Sunday ruled a Florida law requiring ex-felons to satisfy legal fees before gaining voting eligibility is tantamount to an unconstitutional "pay-to-vote-system," potentially setting the stage for hundreds of thousands of newly registered voters.
The highly anticipated ruling was triumphantly hailed by voting rights groups that had likened the law to an unconstitutional poll tax.
Today, Betty Riddle looks forward to voting this November now that her right has been secured by the court. She says she is ready to be first in line again. #Amendment4 #votingrights https://t.co/YRNmFg8Sb1

— ACLU of Florida (@ACLUFL) May 26, 2020
Passed by the state's Republican-controlled legislature and signed by Gov. Ron DeSantis (R) last year, the law raised the threshold for ex-felons to regain their voting rights. It came in response to a constitutional amendment Floridians overwhelmingly approved in 2018, initiating the largest expansion of voting rights since the passage of the 26th Amendment of the U.S. Constitution.
Amendment 4 challenged Florida's long-held practice of "felony disenfranchisement," which barred ex-felons from casting ballots. It marked a significant victory for voting rights organizations at a time when states across the country in recent years have adopted stringent voting restrictions ostensibly in the name of election integrity.
However, the victory in Florida was short-lived as the GOP-dominated state legislature sought to tie voting eligibility to a person's ability to pay sometimes exorbitant legal fees.
"The Twenty-Fourth Amendment precludes Florida from conditioning voting in federal elections on payment of these fees and costs," U.S. District Court Judge Robert L. Hinkle wrote in a 125-page order. The lawsuit was brought by the American Civil Liberties Union (ACLU), the group's sunshine state affiliate, and several other civil rights organizations.
How the ruling will impact future elections, including the 2020 contest for president, is unclear. Florida's government is expected to appeal the ruling, and the COVID-19 pandemic has disrupted traditional voter registration operations.
But as those who campaigned for voting rights expansion in 2018 made clear, eradicating felony disenfranchisement in Florida has never been about tilting elections in favor of any political party. Instead, the main objective has been to restore voting rights to people who've served their time and are tax-paying residents of Florida.
"The court recognized that conditioning a person's right to vote on their ability to pay is unconstitutional," Julie Ebenstein, senior staff attorney with ACLU's Voting Rights Project, said in a statement. "This ruling means hundreds of thousands of Floridians will be able to rejoin the electorate and participate in upcoming elections. This is a tremendous victory for voting rights."
LISTEN to 'The Real Voter Fraud'—an examination of felony disenfranchisement laws & the battle to restore voting rights
Outraged civil liberties groups said the wealth-based hurdle established by the state government amounted to a modern-day poll tax. While the court disagreed with that characterization, Hinkle noted that most of the people impacted by the law "lack the financial resources to make the required payment."
"Many do not know, and some will not be able to find out, how much they must pay," he added.
The court left open the possibility of states imposing financial conditions for re-enfranchisement, so long as they pass "constitutional scrutiny."
"Whatever might be said of a rationally constructed system," Hinkle wrote, "this one falls short in substantial respects."
At the time that Amendment 4 was brought to voters, Florida was one of four states that continued a Jim Crow-era practice of barring people with felony convictions from voting. As a result, one in 10 residents were disenfranchised, including one-fifth of African Americans.
In an interview with News Beat last year, Ebenstein, the ACLU attorney, said the Florida law "discriminates on the basis of wealth."
"There's in fact, billions of dollars of debt owed in the state of Florida that the court clerks don't even expect to be able to recoup because oftentimes the fees are levied against people who can't afford to pay them," she said in a special podcast episode. "But what the law...does is it says until somebody can afford to pay off these deaths, hundreds, thousands, in some cases, millions of dollars in restitution, they can't have their voting rights restored."
After Amendment 4 was passed by 65 percent of voters, there was optimism that more people would take part in the voting process. An analysis conducted by the nonprofit Brennan Center for Justice last year appeared to support that assumption: Compared to previous odd years, 100 times more formerly incarcerated Floridians registered to vote in early 2019.
Prior to Amendment 4, those with past felony convictions were required to appeal to the state's Executive Clemency Board. During former Gov. Rick Scott's two terms in office, only about 5,000 people had their voting rights restored.