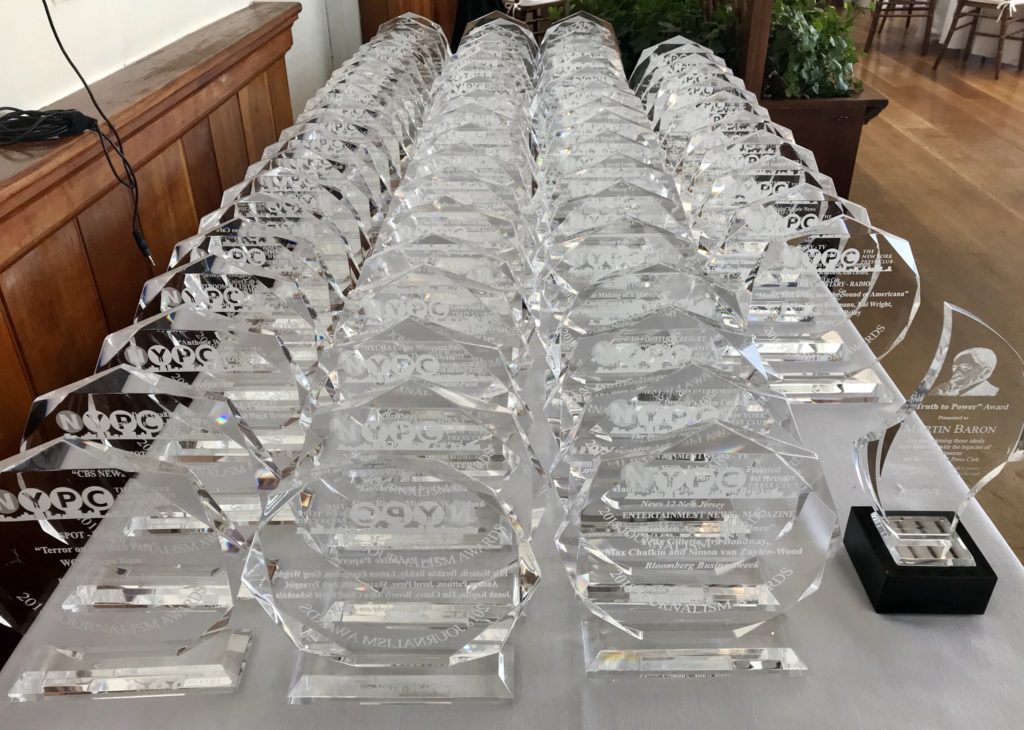 News Beat podcast clinched the highest honor for podcast excellence among journalists and media outlets throughout New York City and across the United States at the 2021 New York Press Club Journalism Awards.
The annual competition and awards ceremony—an enduring tradition in New York media—honors journalistic superiority across diverse categories by writers, reporters, editors, producers, photographers, videographers, multimedia creators, news sites, and publications. This year's contest spanned more than 30 divisions, with nearly 600 entries submitted by TV and radio stations, newspapers, websites, magazines, and newswires in New York City and around the nation. Judges consisted of prominent current and former journalists, and academics, selected for their expertise in each category.
Winners in other areas encompassed a long list of revered outlets, including: The New York Times, The Wall Street Journal, Fortune, Politico, Time, CBS News, Bloomberg News, ESPN, Reuters, Vulture/New York Magazine, The New York Post, The New York Daily News, The Daily Beast, Associated Press, WNYC, and many more.
This is the second time the News Beat podcast crew has earned the coveted and prestigious best podcast crown—judges bestowing it on the team in 2018 as well. There were no other winners in this category this year.
"We had a record number of contestants this year, all from stand-out reporters, editors and producers," stated New York Press Club President Debra Toppeta in a press release announcing the winners. "During a difficult year with numerous challenges, the work of journalists continued at a high level, a testament to their dedication to the profession."
News Beat podcast's winning episode, titled "#SayHerName: Confronting 400 Years of State Violence Against Black Women," captured the raw emotions and vicious truths enmeshed within America's shameful and barbaric legacy of brutalizing Black women and girls. Painful insights from Michelle S. Jacobs, author and professor of law at University of Florida Levin College of Law, and author and researcher Andrea Ritchie, chronicled this abuse from the Atlantic slave trade on through the lethal police brutality cases of today.
Alexia Christian. Mya Hall. Gabriella Nevarez. Miriam Carey. Shantel Davis. Malissa Williams. Kathryn Johnston. Aiyana Stanley-Jones. Breonna Taylor. The list goes on and on and on.
"
I'm looking right now in my apartment at a poster that we made in 2015 with some colleagues that list 100 Black women and girls killed by police, and there are 5-year-olds on this list," Ritchie told News Beat.
Listen to the full podcast episode here:
Founded as the New York Newspaper Reporters Association in 1948, the nonprofit New York Press Club (NYPC) consists of current and former members of the news media and news organizations ranging from television, radio, wire services, daily newspapers, weekly and monthly publications, and online sites, as well as professionals from the fields of communications, public relations, and public affairs. It represents working journalists and media professionals and vows to "protect the rights of all reporters while providing networking opportunities for journalists and communications specialists to discuss professional issues and affect change," declares its mission statement.
Launched in 2017, multiple-award-winning News Beat podcast shines a light on underreported and oft-ignored social justice issues through a unique blend of independent journalism and independent hip-hop. Every full episode features interviews with academics, activists, and other experts—masterfully melded with original performances by an ever-growing roster of extraordinary hip-hop artists.
"#SayHerName: Confronting 400 Years of State Violence Against Black Women" did not include an artist performance, yet rather, an incredibly moving sonic tapestry threading together music, historical and present-day audio clips, and Jacobs and Ritchie's voices—intimate, informative, and impossibly heartbreaking.
The episode was also recognized as one of '100 Outstanding Podcasts From 2020' by the respected podcast publication and newsletter The Bello Collective.
"This episode of News Beat doesn't feel like a podcast with music; it feels like listening to music and a podcast at the same time," commented a judge. "The voices of experts, victims, family members, activists, and news outlets are expertly collaged together, with a constant, but not monotonous, steam of music underneath. The episode's construction is outstanding, but the story, of course, is horrifying. And as one of the voices says, this is only 'a glimpse at the range' of violence inflicted on people of color."
News Beat podcast's parent company, Morey Creative Studios, is a New York-based HubSpot Partner Agency specializing in B2B inbound marketing, CRM and website design, HubSpot CMS development, accessibility and digital inclusion, podcast production, and more. Its roster of pods—in addition to News Beat, mission-driven business spotlight Grow For Good and inbound marketing program Inbound & Down—are all produced, engineered, and edited by award-winning podcast consultancy, creation, production, and distribution agency Manny Faces Media. Yup, that Manny—News Beat's host. Check out his full portfolio of other extraordinary shows as well, including UNFTR and Hip-Hop Can Save America! and many more!

News Beat's 2018 New York Press Club win celebrated our episode "Why We Riot: Institutionalized Inequality, Racism & Oppression," which featured passionate insights from renowned intellectual and then-Harvard University professor Dr. Cornel West; activist and former Green Party vice presidential candidate Rosa Clemente; University of Baltimore professor Elizabeth Nix; and lifelong activist and chairman of the Newark-based People's Organization for Progress Lawrence "Larry" Hamm. These were punctuated via an original musical score by our Artist in Residence, hip hop flamethrower Silent Knight and jazz fusion outfit The Band Called FUSE, which he fronts.
News Beat's editor in chief Christopher Twarowski shares the following regarding this year's best pod nod from New York Press Club:
"We are sincerely humbled and extremely honored to be recognized among so many other extraordinary journalists and media outlets. We hold the New York Press Club in extremely high regard, and this remarkable distinction is testament to the vast talents and enormous hearts of not just the News Beat podcast and Morey Creative Studios team, but the dogged relentlessness and infectious passion of the guests we are so privileged to have featured on this critically important episode. They have dedicated their lives to ensuring the countless victims of racism, police brutality, and institutionalized inequality are Never forgotten, and we dedicate this award to them, along with all those named and unnamed women and children slain simply because of the color of their skin.
"This episode provides but a glimpse into the sheer horrors wrought upon Black women and girls from the founding of this nation on through today. We implore you to learn more about this issue, and get involved. We must all collectively and individually do our best to bring more attention to the #SayHerName campaign and all those women and young children who have been killed by a historic and barbaric barrage of violence against them. This systemic, perpetual storm of brutality must be further exposed and stopped, and all its victims remembered and honored. We call upon mainstream media outlets to join us in doing so. Please, fellow journalists, cover this topic—put it deservingly on your front pages and homepages. Listeners and readers, as a veteran investigative reporter once advised me: Never Lose Your Sense of Outrage. Fight like hell against these injustices."
News Beat podcast's 2021 New York Press Club honor is merely the latest in an ever-growing list of accolades. Other renowned organizations and competitions recognizing our work include: the Religion News Association, Society of Professional Journalists Long Island Press Club chapter, CUNY Graduate School of Journalism Center for Community and Ethnic Media, and more.