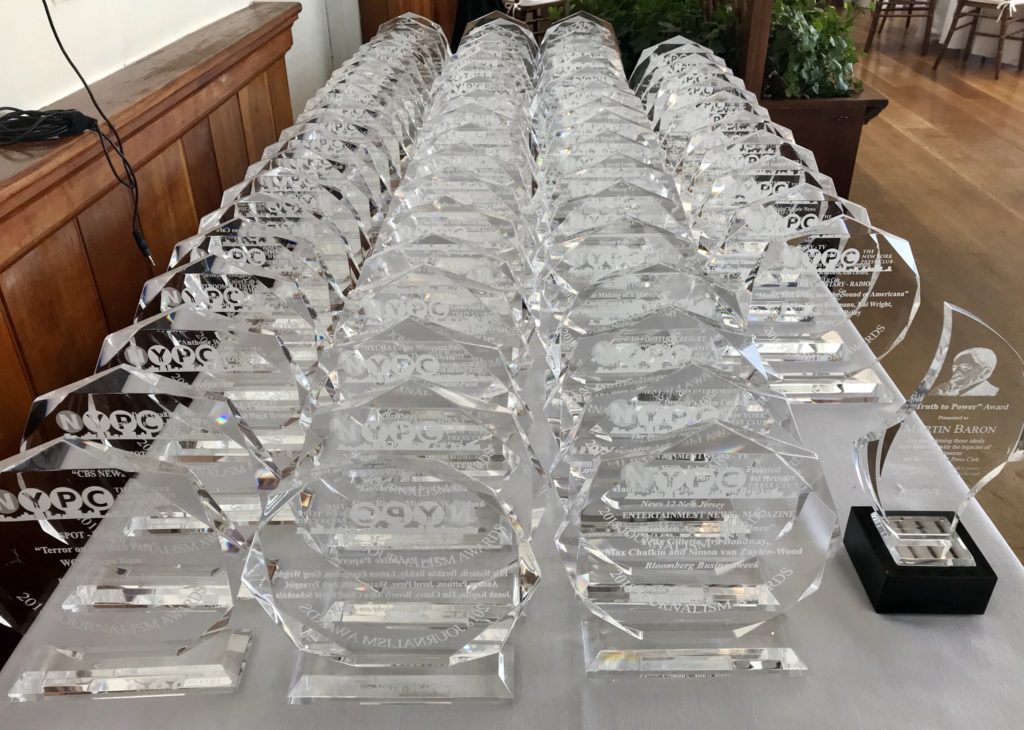 News Beat, a podcast melding hard-hitting social justice journalism and original rhymes and verses from independent hip hop artists, recently earned top honors in the Podcast category of the New York Press Club's 2018 journalism awards competition, which recognizes journalistic excellence in print, broadcast and online by news outlets and publications in New York City and across the country.
News Beat's winning entry, titled 'Why We Riot: Institutionalized Inequality, Racism & Oppression,' examines the underreported and pervasive socioeconomic, political and societal conditions that have historically contributed to social unrest within minority communities across the United States.
Listen to the full podcast episode here:
Winners in the annual contest were selected across 29 categories from nearly 500 entries submitted by TV, radio, newspapers, websites, magazines and newswires in New York City and around the United States, with recipients honored during New York Press Club's annual Awards and Installation Dinner at The Water Club in Manhattan on June 4.
Founded in 1948 as the New York Newspaper Reporters Association, the nonprofit New York Press Club (NYPC) is an association of and for working journalists and media professionals, with the stated mission of "protect[ing] the rights of all reporters while providing networking opportunities for journalists and communications specialists to discuss professional issues and affect change."
"The annual New York Press Club Journalism Awards are a long-standing tradition in New York media, honoring excellence in journalism by writers and reporters who are recognized as being among the best in their fields," states its website. "The Awards and Installation Dinner, at which the year's awards are formally presented is a highlight on many social calendars."
'Why We Riot,' News Beat's season one finale, features passionate insights from renowned intellectual and Harvard University professor Dr. Cornel West; activist and former Green Party vice presidential candidate Rosa Clemente; University of Baltimore professor Elizabeth Nix; and lifelong activist and chairman of the Newark-based People's Organization for Progress Lawrence "Larry" Hamm. Punctuated all this is an original musical score by hip hop artist Silent Knight and jazz fusion outfit The Band Called FUSE, which he fronts.
Historical audio chronicling the collective emotional upheaval that swept through impoverished communities across the United States in the wake of MLK's assassination in April 1968—especially Newark, NJ—is interwoven throughout the episode.
News Beat was the only podcast recognized in the internet-based "Podcast" category; WCBS Newsradio 880 brought home the top spot in the radio-based podcast division. Other outlets earning high praises alongside News Beat in the 2018 New York Press Club Journalism Awards were The New York Times, New York Daily News, The Wall Street Journal, Fortune, The Daily Beast, The New Yorker, Reuters, Associated Press, Bloomberg News, and The Intercept, among many others.
Bloomberg News clinched this year's grand prize—the New York Press Club's Gold Keyboard—and Washington Post Editor in Chief Marty Baron was presented with its inaugural Gabe Pressman Truth to Power Award.
"This contest proves there are a lot of hard-working journalists doing exceptional work," said New York Press Club President Steve Scott. "Our profession remains strong."
"We are sincerely humbled and extremely honored to be recognized among so many other extraordinary journalists and media outlets," said News Beat's Editor in Chief Christopher Twarowski. "We hold the New York Press Club in extremely high regard.
"In honoring outstanding journalism, New York Press Club's awards competition inherently highlights and raises awareness about the many people, issues and subjects at the heart of these stories," he continues. "In doing so, NYPC shines a much-needed light on their plights, their hardships, their struggles, along with the systems, mechanisms and elected and non-elected officials who facilitate and perpetuate such injustices.
"News Beat strives to illuminate social justice and civil liberties issues in the public good, rectify false narratives and amplify the truth, through our unique melding of hard-hitting investigative journalism, exceptional storytelling, and extremely passionate, ever-insightful independent hip hop," adds Twarowski. "Awards competitions, such as New York Press Club's, help further this mission by magnifying exposure and raising much-needed awareness about these critical topics and issues. Now, it's important to get out and do something about it.
"Independent journalism and independent music—especially hip hop—pack one hell of a punch."
Check Out The Full List Of 2018 New York Press Club Journalism Awards Winners HERE
Contact the News Beat team by newsbeat@moreycreative.com.
About New Beat Podcast
Described as "60 Minutes meets Hamilton," News Beat was launched in January 2017 by Morey Publishing, now Morey Creative Studios, with the mission of weaponizing journalism and music to tackle the most pressing social justice and civil liberties issues of our time.
Its season two opener, "MLK: What They Won't Teach In School," was selected as The New York Times Podcast Club's "Pick of the Week" in January 2018, and delved past the civil rights leader's oft-quoted historical epitaph "I Have A Dream" to re-introduce what he considered his true lasting legacy: The Poor People's Campaign to end poverty, racial and economic injustice. The episode was also featured on the award-winning "Best of the Left" podcast alongside The Intercept's popular "Intercepted" podcast and The Nation's "Start Making Sense."
PRESS INQUIRIES/TIPS
Contact the News Beat Staff: