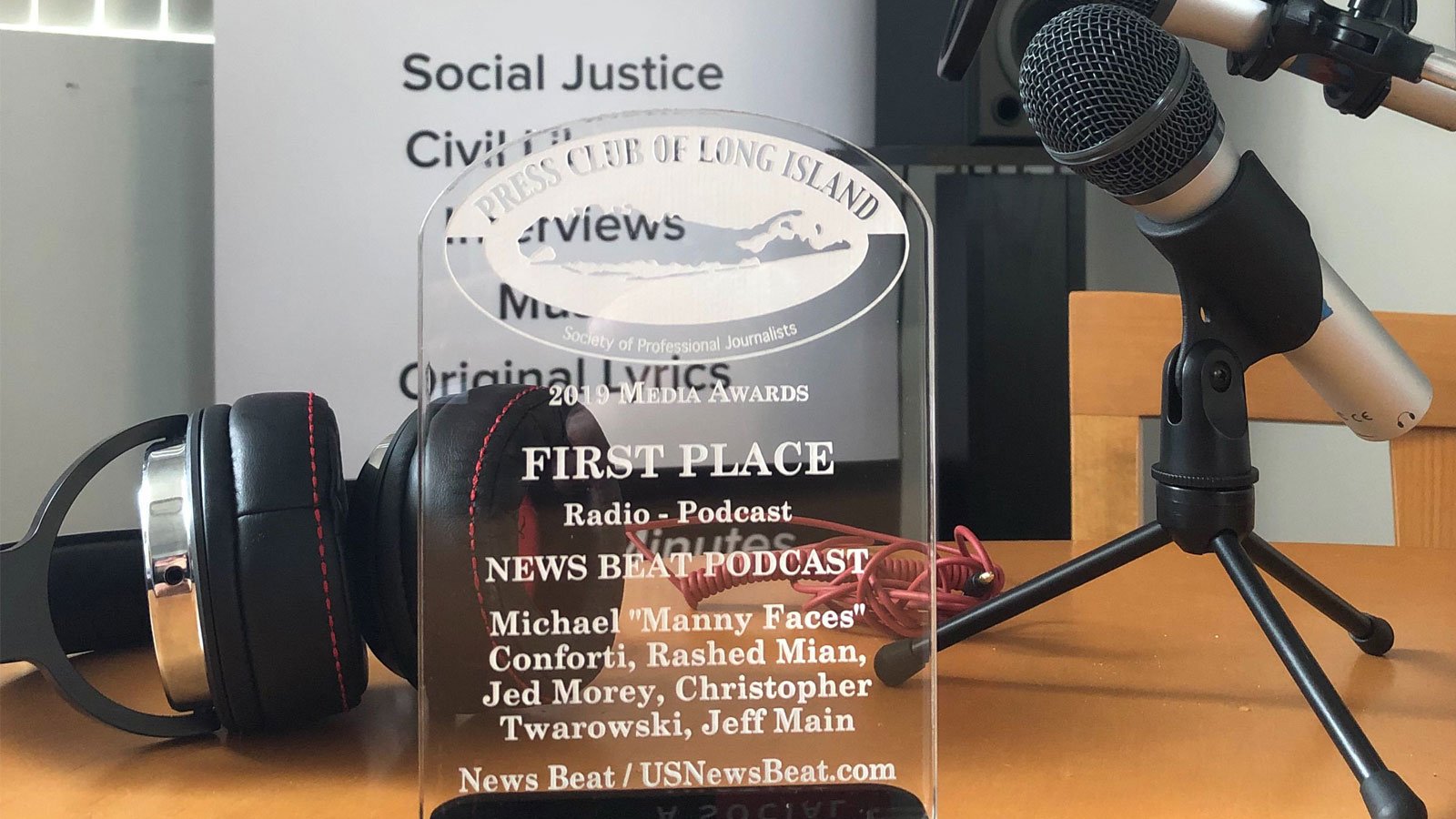 News Beat podcast earned multiple top prizes for journalistic superiority at the 2019 Press Club of Long Island (PCLI) Media Awards, held at Watermill Caterers in Smithtown, NY on June 6.
The local chapter of the national Society of Professional Journalists (SPJ), PCLI's annual banquet and awards ceremony recognizes excellence in print, online and broadcast journalism by news outlets and journalists throughout Nassau and Suffolk counties. This year's competition included submissions from writers and news organizations across the region, spanning a wide range of categories within narrative, video, visual and radio divisions. It was judged by members of the Oklahoma Society of Professional Journalists Professional Chapter.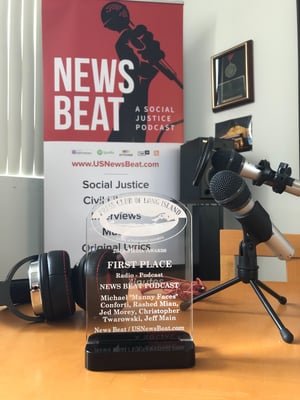 News Beat clinched two First Place honors in radio, for Best Podcast and Government/Politics coverage. The former celebrates News Beat overall, recognizing its unique and extraordinary melding of investigative journalism and independent music to shine a much-needed light on the most pressing social justice and civil liberties issues of our day. The latter prize honors "MS13: Made in the U.S.A.," our powerful examination of the bloody origins, recent politicization, and brutal reign of notorious El Salvadoran street gang MS-13 across Long Island.
Listen to the full podcast episode here:
That episode features interviews with Patrick Young, an immigration attorney, immigrant rights advocate, program director at CARECEN—the Hempstead-based Central American Refugee Center—and co-founder of the Long Island Civic Engagement Table; Jose Miguel Cruz, director of research at Florida International University's Kimberly Green Latin American and Caribbean Center and Steven J. Green School of International and Public Affairs; and Pulitzer Prize-winning investigative journalist Raymond Bonner. Those insights intertwine with a passionate, incendiary musical performance by Bronx-based revolutionary hip-hop duo Rebel Diaz and El Salvadoran hip-hop assassin Cruz Control, further contextualizing the historical and modern-day ramifications of MS-13's vicious legacy.
News Beat also snagged Second Place nods in the narrative division's Non-Local News/Feature category for its multi-part "U.S. Mass Incarceration Crisis Investigative Series," illuminating several critical, underreported facets of the U.S. mass incarceration epidemic, including youth prisons, felony disenfranchisement, prison rape, money bail, and more. Those episodes feature incredibly explosive and inspiring original rhymes and verses performed by hip-hop artists Silent Knight, LiKWUiD and Napoleon Da Legend, among others.
The SPJ/PCLI awards are just the latest accolades for the News Beat podcast crew.
Michael "Manny Faces" Conforti, Rashed Mian, Jed Morey, Christopher Twarowski and Jeff Main. News Beat was crowned 'Best Podcast' in the
2018 New York Press Club Journalism Awards
, a competition recognizing outstanding journalism by news outlets and publications throughout New York City and the country, including
The New York Times
, Associated Press,
The Wall Street Journal
,
New York Daily News
, The Daily Beast,
Fortune
,
The New Yorker
, Bloomberg News, Reuters, and
The Intercept
, among many others.
That episode, titled "Why We Riot: Institutionalized Inequality, Racism & Oppression," clocked in at nearly an hour and featured emotional insights from Harvard's Dr. Cornel West, activists Rosa Clemente and Lawrence "Larry" Hamm, and Elizabeth Nix of the University of Baltimore. Hip-hop maestro Silent joined the jazz-fusion outfit The Band Called FUSE for an absolutely electrifying performance punctuating the simmering passion and pain expressed by communities literally dying for justice across the country throughout the late Sixties.
Listen to the full podcast episode here:
News Beat has earned high honors at several other prestigious awards contests, as well, including the 2018 national Religion News Association Awards for Religion Reporting Excellence and the CUNY Graduate School of Journalism Center for Community and Ethnic Media's Ippies Awards, and has been featured as a 'Pick of the Week' by The New York Times Podcast Club. Its most recent episode "California: Epicenter of Mass Incarceration Reform" was created in collaboration with Pulitzer Prize-winning criminal justice news outlet The Marshall Project.
Listen to the full podcast episode here: