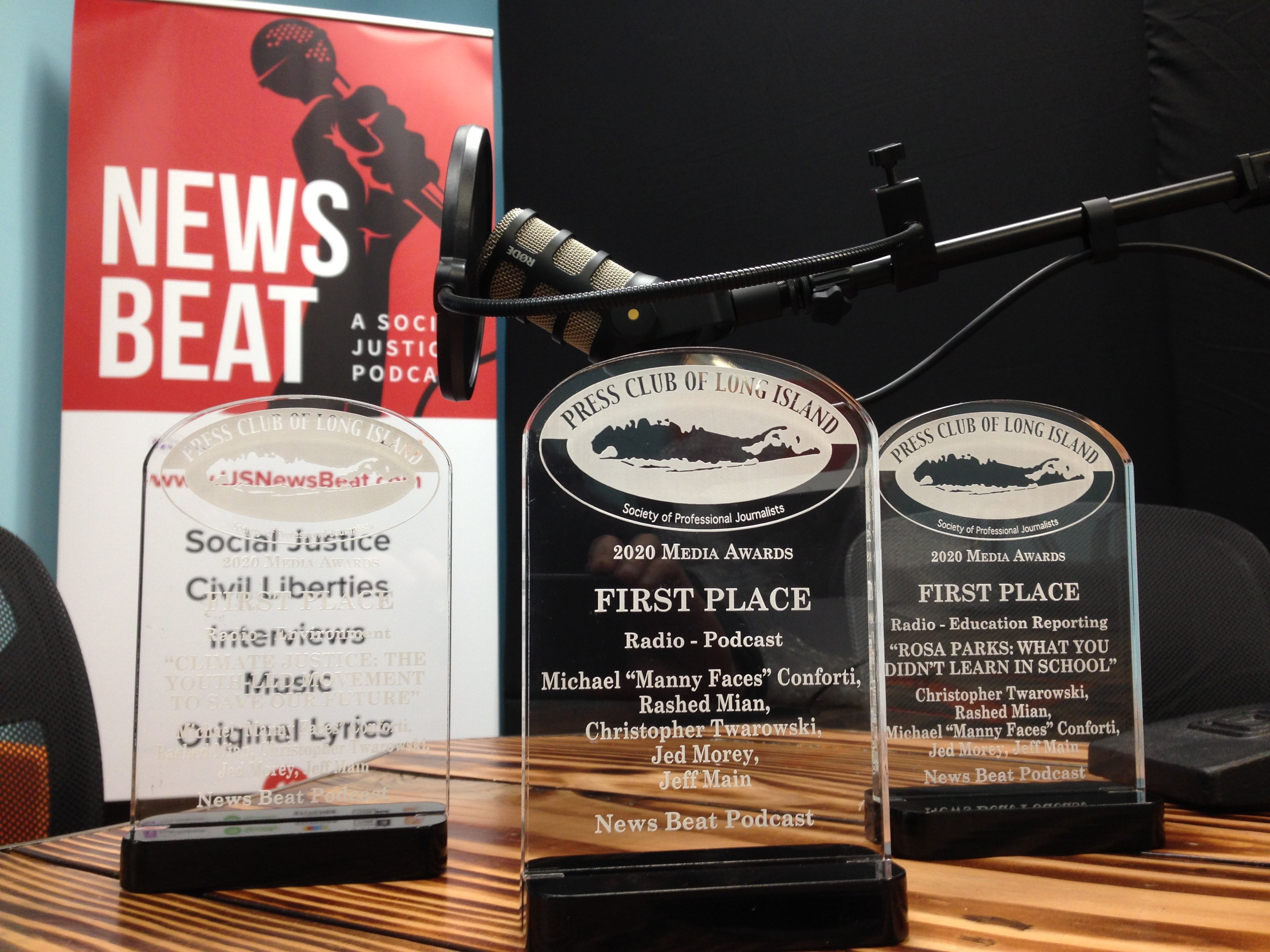 News Beat podcast earned top honors at the annual Society of Professional Journalists (SPJ) / Press Club of Long Island (PCLI) Media Awards, including its prestigious 'Best Podcast' prize.
This is the second consecutive year the crew of the social justice podcast and news site—Manny Faces, Rashed Mian, Jed Morey, Jeff Main and Christopher Twarowski—has scored the competition's most distinguished award for podcasting, along with several other of its highest accolades.
News Beat podcast shines a light on underreported, critical social justice, civil liberties and human rights issues through a unique, supersonic collage of hard-hitting independent journalism and incendiary verses performed by an ever-growing arsenal of indie hip-hop artists.
Listen & Subscribe to News Beat Podcast for FREE on Your Favorite Pod App & Sign Up for Our Newsletter
These latest accolades couldn't have been bestowed by more renowned institutions.
Established in 1909, the Society of Professional Journalists is the nation's oldest, and most broad-based journalism organization, with the stated mission of "encouraging the free practice of journalism and stimulating high standards of ethical behavior."
Press Club of Long Island, founded in 1974 in response to a journalist being jailed for refusing to reveal a source, is among SPJ's largest professional chapters. Its yearly awards ceremony garners hundreds of submissions from media outlets and journalists from across the New York metropolitan region, and recognizes those demonstrating journalistic and artistic excellence.
Due to the novel coronavirus (COVID-19) pandemic, the 2020 PCLI Media Awards ceremony and networking gala was cancelled, and its winners and finalists were instead announced and celebrated online in July, accompanied by the hashtag #PCLIAwards. Judging is traditionally conducted by SPJ chapters outside of the contest area.
News Beat podcast racked up a total of four esteemed honors.
In addition to clinching 1st Place - Podcast in the Radio category, Team News Beat brought home 1st Place - Environment and 1st Place - Education Reporting commendations, as well as 2nd Place - Non-Local News / Feature nods in the Narrative category.
---
The high acclaim for News Beat among judges in the all-important Environment division was earned for "Climate Justice: The Youth-Led Movement to Save Our Future," its powerful and necessary episode chronicling the voices and immediacy of the largely youth-led climate justice movement, which demands immediate actions by world, state and local leaders and governments, to end the burning of fossil fuels, reduce greenhouse gases, and hopefully, stave off the lethal ramifications of global warming before it's too late.
To truly capture the zeitgeist of the Sept. 20, 2019 Global Climate Strike—along with the voices, songs, and rallying cries of its participants—Manny Faces, Mian and Twarowski joined the countless students, parents, families and activists who skipped work or school to march through New York City in protest of our collective future's destruction.
The episode also featured a rousing speech delivered three days earlier by renowned author and journalist Naomi Klein at a packed Great Hall at the Cooper Union, which News Beat also recorded live.
Those remarks and the many interviews conducted along the several-mile trek to Battery Park—including members the Indigenous REDRUM Motorcycle Club, who shared the perspective ot Native peoples, the first to be affected by rising sea levels—were then masterfully interwoven between incendiary rhymes performed by News Beat's Artist in Residence, Brooklyn-bred hip-hop maestro Silent Knight.
---
In the Education Reporting division, judges praised News Beat podcast's educational and inspirational episode "Rosa Parks: What You Didn't Learn in School," an intimate, aural analysis of the civil rights pioneer's life and lesser-known activism, revealing a moving portrait of her early radical tendencies and worldview.
Guests included Yolanda Jack, Public Programs coordinator at The Charles H. Wright Museum of African American History in Detroit, and Jeanne Theoharis, an author and Distinguished Professor of Political Science at Brooklyn College. Her biography "The Rebellious Life of Mrs. Rosa Parks" won a 2014 NAACP Image Award, the Letitia Woods Brown Award from the Association of Black Women Historians, and was named one of the 25 Best Academic Titles of 2013 by Choice.
Explosive verses performed by News Beat's other Artist in Residence, New York-based hip hop fusion music artist, DJ, songwriter and educator LiKWUiD, provided the unforgettable, now-award-winning soundtrack.
---
Judges recognized Team News Beat's journalistic superiority yet again by honoring its incredibly important and equally disturbing episode "Mentally Ill & Incarcerated: America's 19th Century Response to Treatment" in the Non-Local News / Feature division of the Narrative category—testament to the high quality of the long-form narrative stories accompanying each and every podcast episode.
That drop took an in-depth look at the shameful number of incarcerated people suffering mental illnesses who are locked behind jail cells instead of receiving necessary treatment at mental health facilities. In fact, New York City's Jail System houses more mentally ill people than all of its designated hospitals and care facilities, combined.
This moving, sobering episode features interviews with Leah Pope, Senior Research Fellow for The Policing Program at the nonprofit Vera Institute; John Snook, executive director of the nonprofit Treatment Advocacy Center, widely recognized as one of the most influential mental health advocacy organizations in existence today; and Dr. Homer Venters, Senior Health and Justice Fellow for Community Oriented Correctional Health Services, former Chief Medical Officer for the NYC Jail system, and author of "Life and Death in Rikers Island."
News Beat podcast Artist in Residence LiKWUiD contributed an incredibly explosive and emotional performance for this episode, encapsulating via hip hop the unimaginable pain and anguish experienced by the untold legions of prisoners suffering mental illness behind bars.
---
Last year, the extraordinary team brought home multiple top honors at the SPJ / PCLI awards contest as well: In addition to the aforementioned 1st Place - 'Best Podcast' award, earning 1st Place - Government/Politics for its episode "MS13: Made in the U.S.A."—a powerful examination into the bloody origins and politicization of El Salvadoran street gang MS-13 across Long Island—and 2nd Place nods in the narrative division's Non-Local News/Feature category for its multi-part "U.S. Mass Incarceration Crisis Investigative Series," illuminating several critical, underreported facets of the U.S. mass incarceration epidemic, including youth prisons, felony disenfranchisement, prison rape, money bail, and more. Those episodes feature incredibly explosive and inspiring original rhymes and verses performed by hip-hop artists Silent Knight, LiKWUiD and Napoleon Da Legend, among others.
News Beat also secured 'Best Podcast' honors at the New York Press Club Journalism Awards, which recognizes outstanding journalism by news outlets throughout New York City and the country, including The New York Times, Associated Press, The Wall Street Journal, New York Daily News, The Daily Beast, Fortune, The New Yorker, Bloomberg News, Reuters, and The Intercept, among many others.
That episode, "Why We Riot: Institutionalized Inequality, Racism & Oppression," featured insights from Harvard's Dr. Cornel West, activists Rosa Clemente and Lawrence "Larry" Hamm, and Elizabeth Nix of the University of Baltimore. Silent Knight fronted jazz-fusion outfit The Band Called FUSE for a riveting, emotional performance amplifying the pain and rage of Black and Brown communities across the country during the rebellions of the 1960s.
News Beat podcast has also been crowned high marks from Religion News Association National Journalism Awards, and the CUNY Graduate School of Journalism's Ippies Awards. The latter are awarded to members of the ethnic and community press by the Center for Community and Ethnic Media at CUNY Graduate School of Journalism.
Listen and subscribe for FREE to News Beat podcast on your favorite pod app, and sign up for our newsletter.
---
Please be sure to
subscribe
, rate and review us
wherever you listen to podcasts
—Apple, Spotify, Stitcher—and visit USNewsBeat.com for all our previous episodes and unique blend of social justice journalism and independent hip hop.
---
The award-winning News Beat podcast team also livestreams every Friday at 1 p.m. ET via our Facebook, YouTube and Twitch pages. Our show 'This Week in Social Justice' collides social justice news and incredible insights from extraordinary guests, with viewer thoughts, commentary and original hip-hop, to

illuminate and incite

.
---