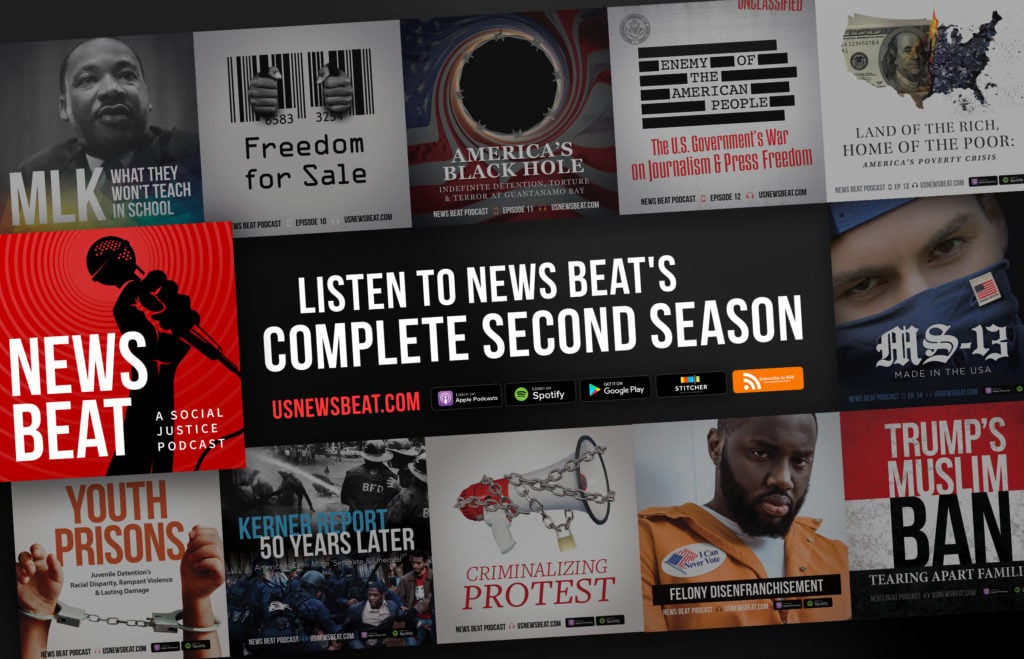 The News Beat podcast recently wrapped up its second season with a powerful episode about the under-reported U.S.-supported proxy war in Yemen, and the consequences of President Donald Trump's Muslim ban on those fleeing for their lives to escape its horrors.
News Beat's 11-episode second season continued where its inaugural lineup left off, addressing the institutionalized injustices of the criminal justice system: money bail, felony disenfranchisement, persistent racial inequality, youth prisons, and deep poverty in America. We also explored American national security, with reports on Guantanamo Bay prison camp and the aforementioned war in Yemen. And in one of our most-listened-to episodes, we spoke to experts about MS-13's true origins. (Hint: It was created in the United States, not abroad.)
A lot happened beyond what you heard in your podcast feeds, too.
We presented News Beat at various conferences and universities, forged new relationships we think will be mutually beneficial moving forward, discussed other means of distribution (we have a really cool episode planned for season 3), and perhaps most significantly, News Beat won several prestigious awards.
Earlier this summer, we were honored with the best podcast prize at the prestigious New York Press Club's annual journalism awards gala—which honored legacy news organizations including The New York Times, Washington Post, New York Daily News, and others. That News Beat prevailed despite such outstanding competition reinforced to us the groundbreaking nature of the work we're doing.
We were greeted with equally fantastic news when the immensely talented hip-hop artist LiKWUiD agreed to join News Beat as our second artist-in-residence (AIR). Words cannot express how fortunate we are to have LiKWUiD and Silent Knight, our first AIR, on the team.
We also expanded our talented pool of artists. Among the newcomers: Napoleon Da Legend and Rabbi Darkside. And it goes without mentioning that News Beat's host/producer, Manny Faces, laid down some pretty dope verses in our episode about Guantanamo Bay, too.
We're in the process of producing several episodes as we gear up for our third season. In the meantime, you can catch up on past episodes you may have missed, shop for News Beat swag, support our Artist-in-Residence program (we compensate the artists who appear on each episode), rate and review us on Apple Podcasts or wherever you download pods, and shout us out to friends and family. And don't forget to sign up for podcast updates and other news from the News Beat crew.
Here's a brief synopsis of each episode from this past season:
MLK: What They Won't Teach in School
This was a remix of our pilot episode, which explored the whitewashing of Rev. Dr. Martin Luther King Jr.'s legacy and how he was likely staking it on the lesser-known Poor People's Campaign. King was assassinated prior to seeing that dream come to life. When students learn of MLK each year, the curriculum is almost exclusively dedicated to his famous "I Have a Dream" speech. However, King was much more radical than the current narrative suggests.
Freedom for Sale: How Money Bail Crushes the Poor & Inflates the World's Largest Prison State
More than 400,000 Americans toil in jail annually because they can't afford bail. Yup, that's right. Bail is a staple of the broken U.S. criminal justice system. Here's how it works: If you can afford bail, you're free to go. If not, you're locked away until trial. Another path to freedom, though debilitating for most poor people, is to enlist a bail bondsman to free you—which has its own unique set of horrors. The United States and the Philippines are the only two nations on Earth with commercialized bail systems. This industry rakes in an estimated $2 billion a year, mostly on the backs of poor people.
"Bail is sort of the grease in the wheels of this machine that just churns out misery and incarceration," Peter Goldberg, executive director of the nonprofit Brooklyn Community Bail Fund, told us.
America's Black Hole: Indefinite Detention, Torture & Terror at Guantanamo Bay
We spoke with lawyers representing several Guantanamo detainees, including some who have been imprisoned for more than a decade without charge. Of the 40 men indefinitely detained at GITMO, five have been cleared for release, though there's no indication freedom is within their grasp. Mark Fallon, a retired NCIS investigator who led a unit that interrogated detainees at Guantanamo after 9/11, said many of the men brought there were "dirt farmers" who warlords sold to the United States for bounties. That little-known fact is in direct contradiction of the mainstream view depicting current and former detainees as some of the most dangerous men in the world.
Enemy of the American People: U.S. Government's War on Journalism and Press Freedom
Donald Trump. Enough said, right? Well, not exactly. So Trump is no doubt a threat to press freedoms. He repeatedly refers to the media as the "Enemy of the People," reflexively refers to unflattering news coverage as "Fake News," and dangerously leverages his bully pulpit to mock and demean journalists covering his rallies. When Barack Obama was in office, he often spoke in positive terms about the role of the press, yet his Department of Justice went ahead and prosecuted more whistleblowers under the World War-I era Espionage Act than all previous administrations combined. He essentially laid the groundwork for increased investigations into national security leaks, which Attorney General Jeff Sessions in 2017 said tripled since Trump took office.
Land of the Rich, Home of the Poor: America's Poverty Crisis
Record-low unemployment. Soaring 401(K) accounts. Long-overdue tax breaks. You've likely heard about the stellar U.S. economy, but it's very unlikely you've been made aware of America's actual poverty crisis. About 40 million Americans are living in poverty, including about 18 million who are in "extreme poverty." At the same time, the income equality gap continues to widen. From our original story: "In the first three years after the 2009 economic collapse, the top 1 percent netted 95 percent of the income gains, while the middle class hasn't received a raise this century. Median household income is actually lower than it was since the 1980s. And according to a Pew Research Center analysis, the wealth gap between upper-income households and low- and middle-class families are 'at the highest levels ever recorded,' with the disparity even wider among white and black families."
MS-13: Made in the USA
There's been a lot of talk recently about the violent MS-13 gang, mostly from fear mongering-obsessed elected officials, or candidates for public office. MS-13 has also been tucked into the immigration debate in this country. The most notable example is from President Trump himself, who has called Mexicans "rapists" and "murderers" and suggested that people with violent tendencies are flooding the United States, thanks to lax border security. Here's the truth: In the 1980s, the United States government supported the oppressive right-wing regime in El Salvador during its civil war, spawning a refugee crisis that gave rise to the gang. "There's a direct link between that war, and U.S. support for that war, and the situation today with MS-13 and the gangs," Pulitzer Prize-winning journalist Raymond Bonner told News Beat.
Youth Prisons: Juvenile Detention's Racial Disparity, Rampant Violence & Lasting Damage
The United States incarcerates more children than just about any other industrialized nation. And just like adult prisons, African Americans are disproportionately locked up. On any given day, upwards of 50,000 young people are incarcerated, and some are housed within facilities that date back to the Civil War. "This ill-conceived and outmoded approach is a failure, with high costs and recidivism rates and institutional conditions that are often appalling," researchers from the Harvard Kennedy School wrote in a 2016 report.
Kerner Report 50 Years Later: American Is Even More Separate and Unequal
We spoke to former U.S. Sen. Fred Harris, the last surviving member of the so-called "Kerner Commission," which was convened by President Lyndon B. Johnson to examine the root causes of the racial unrest that characterized much of the '60s. The original report, which went on to become a best-seller, ominously warned: "Our nation is moving toward two societies, one black, one white—separate and unequal." Harris said that prediction has basically come to fruition. "The racial and ethnic discrimination is worsening again, our cities and schools are re-segregating, inequality of income is worse than it was 50 years ago and is worsening still, and there are millions more poor people today than there were in those days," said Harris, who co-edited an unofficial update to the report underscoring these grim realities.
Criminalizing Protest: The U.S. Government's Militarized & Legislative Crackdown on People's Right to Dissent
Around the country, state legislatures have either proposed or adopted laws to stifle people's ability to protest—a right that is ingrained in the Constitution. More than 60 anti-protest laws have been proposed in the last two years alone, which appears to be in response to large-scale demonstrations like the encampment at Standing Rock and opposition to police slayings of unarmed African Americans. At the same time, demonstrators are being met with extreme force by the authorities, who often deploy armored vehicles, tear gas, and pepper spray, among an ever-growing arsenal of weaponry and tactics to quell our inherent right to dissent. In response to these anti-protest bills, most of which have not been adopted, the United Nations Human Rights Commission of the High Commissioner emphatically denounced such proposals, stating they would "severely infringe upon" the right to protest. That's the U.N. lecturing the United States about human rights. Let that sink in for a moment.
The Real Voter Fraud: Felony Disenfranchisement's Civil Death Sentence
Six million Americans have lost their right to vote because of a felony conviction. The state with the highest proportion of stripped voters is Florida, which has disenfranchised about 1.7 million state residents—or 10 percent of its population. These laws date back to Jim Crow, and despite their racist vestige, most states maintain them on the books, including Florida, Iowa, Kentucky and Virginia—which permanently bar ex-felons from voting. This November, Floridians will vote on a ballot initiative that could finally bring an end to the practice of stripping the right to vote from those with felony convictions. Critics of felony disenfranchisement laws insist that collateral consequences are an injustice, because people are already being punished for their alleged crimes by serving time in prison.
Trump's Muslim Ban: Tearing Apart Families Caught in Yemen's Civil War
Twenty-two million people are at risk of starving to death in Yemen due to the U.S.-backed, Saudi-led bombing campaign there against Iranian-supported Houthi rebels. We spoke to the husband of a 26-year-old Yemeni named Amal, who fled the destruction, only to have her once-approved visa to the United States revoked. Her and her husband's story is just one of countless tragedies created by U.S. President Donald Trump's self-professed 'Muslim Ban' barring families from five Muslim-majority countries from ever reuniting—even to escape near-certain annihilation.
Listen, subscribe, and Look Out for Season 3.