WikiLeaks Publisher Julian Assange's extradition hearing in the United Kingdom kicked off Monday, reigniting a passionate debate over press freedoms in the digital age and fears that a successful prosecution in the United States could establish a dangerous precedent for all journalists and media organizations.
The first day of the hearing, which featured testimony from a lawyer representing the U.S. government, was marked by protests outside the Woolwich Crown Court in London by Assange's supporters demanding his release.
Inside, the lawyer for the United States, James Lewis QC, claimed the government was aware of intelligence sources in other countries who disappeared after WikiLeaks published secret documents provided by former U.S. Army Pfc. Chelsea Manning, but could not "prove at this point that their disappearance was the result of being outed by Wikileaks."
The Trump administration's single most severe attack on press freedom (by far) is underway in London - the attempt to extradite & prosecute Julian Assange for working with his source to help her avoid detection, something all major media outlets do - and few US journalists care.

— Glenn Greenwald (@ggreenwald) February 24, 2020
This is a thread for Day 1 of Julian Assange's one-week extradition hearing. Prosecutor (unsure of name at moment) has started opening argument and emphasizes there have been "misstatements of the charges against him."

— Kevin Gosztola (@kgosztola) February 24, 2020
Assange last year was indicted on 18 counts including hacking crimes and for violations of the Espionage Act, a World War I-era law ostensibly intended for spies. The law, which opponents contend is overly broad, has become the government's preferred tool to prosecute whistleblowers—one that became common practice under the purportedly liberal Obama administration.
RELATED PODCAST EPISODE - "Espionage Act & The Battle For The Free Press"
Shortly after the Ecuadorian government revoked its asylum protections for Assange last year, he was arrested by U.K. authorities and formally indicted by the United States. Assange's indictment has raised fears among journalists and press freedom organizations about a potentially devastating chilling effect on investigative journalism and a dangerous precedent if he is extradited and successfully prosecuted.
Assange is the first publisher in history indicted under the Espionage Act.
At Woolwich Crown Court on Monday, Lewis reportedly disputed the assertion that Assange's indictment was motivated by his work as a journalist but instead for a "conspiracy to steal from and hack into" government computers.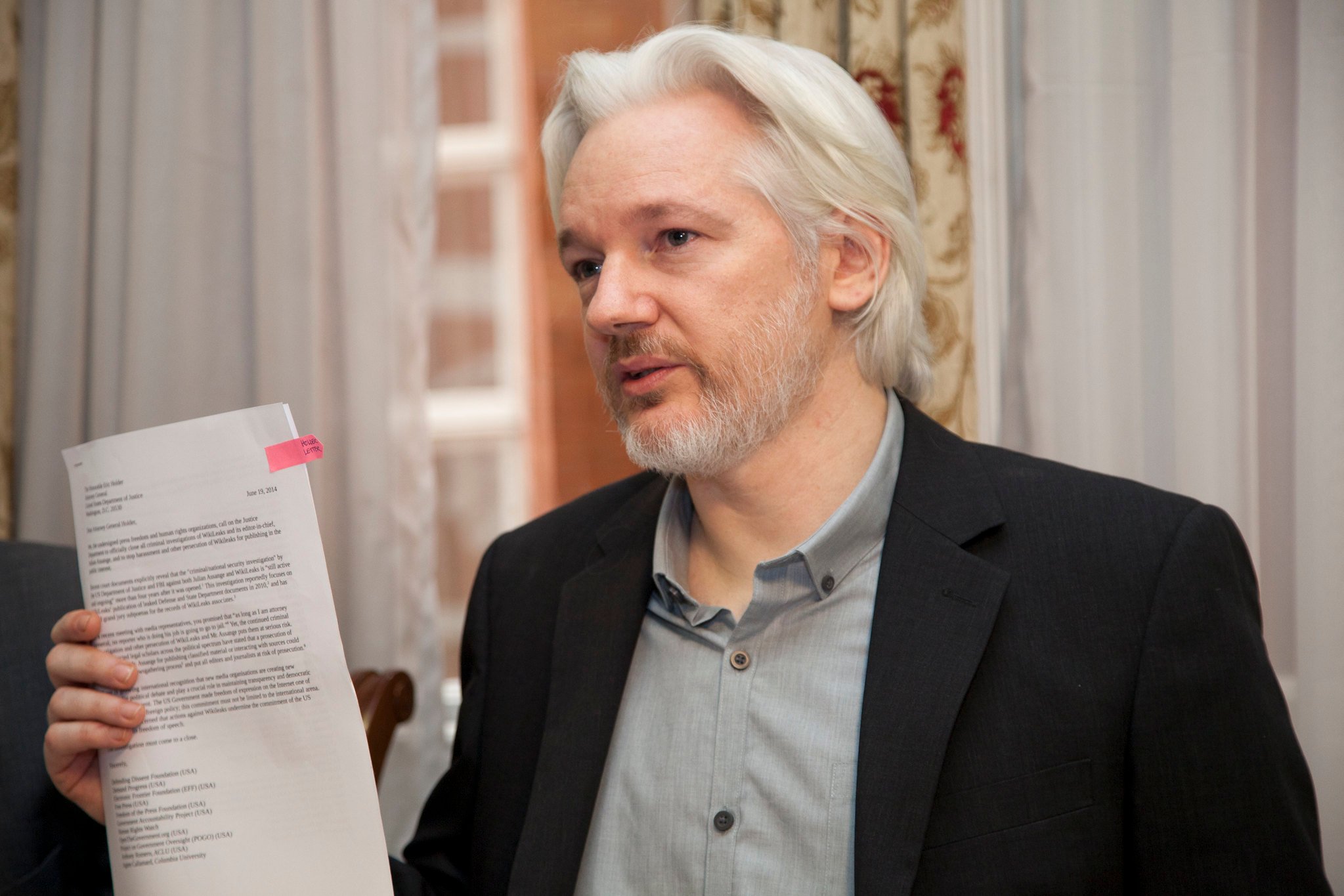 (WikiLeaks Co-Founder and Publisher Julian Assange in 2019 was indicted under the Espionage Act, allegations stemming from disclosures provided by whistleblower Chelsea Manning. Photo credit: Ministry of Foreign Affairs of Ecuador)
Among the people vehemently opposed to Assange's prosecution is James Goodale, the legendary First Amendment lawyer and press freedoms champion who served as vice president and general counsel of The New York Times during the notorious Pentagon Papers case. Goodale represented the paper before the U.S. Supreme Court on three other occasions, including the landmark New York Times vs. Sullivan case.
During a wide-ranging interview with News Beat podcast last year at the Manhattan office of Debevoise & Plimpton, where he's a partner, Goodale in no uncertain terms blasted the Trump administration for charging Assange under the Espionage Act and characterized the government's ever-growing anti-whistleblower campaign as an attack on the free press.
"I think they're terrible, terrible!" he told us. "What the government is trying to do is they're trying to create an Official Secrets Act" criminalizing both the leaking and receiving of information.
Speaking of the war on whistleblowers, Goodale issued this bone-chilling warning:
"As this moves from president to president, it has a distinct possibility of getting worse, and worse, and worse."
Here's a portion of our interview with Goodale, edited for clarity.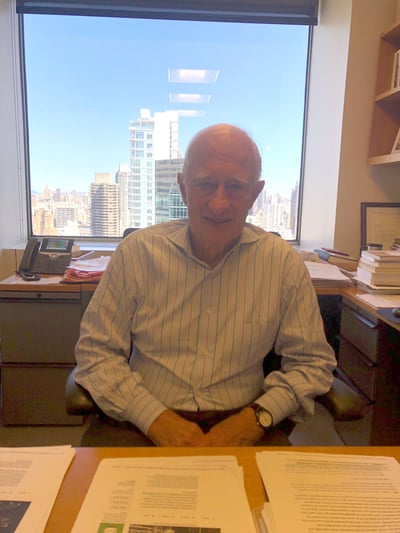 (Caption: Famed First Amendment attorney James Goodale discusses the case against Julian Asssange and a range of press freedoms issues with News Beat podcast.)
Goodale responds to the war on whistleblowers.
"I think it's totally outrageous. I think it violates the First Amendment. I think Obama really disgraced himself with respect to bringing leak prosecutions. Now, let's go back to where you started on. You said, Let's start at the beginning. Okay, let's pretend it is 1971. Have there ever been any leak prosecutions? No. Have there been any prosecutions for publication after the fact, like Assange? No. Nothing. And everybody thought that's what it should be. Now, we move forward, the way you have moved forward. And you'll see that governments have gradually brought criminal cases for leaking, for failing to disclose sources, and that Obama was the one who did the most of it. And it's outrageous."
[Context: The Obama administration charged eight people under the Espionage Act for leaking information to the media. They include Chelsea Manning, Edward Snowden, John Kiriakou, and Thomas Drake, among others.]
Goodale speaks about the rhetorical and legal attacks on the media and whether a free press should be defended.
"Well, [the public] should absolutely be supportive of leaks. I mean, that's basically what it comes down to, because the media is leaking. And the public gets confused about leaks because someone will say, 'Hey, he leaked this and that, and it's going to destroy our national security.' So the public says, 'Well, I don't want my national security being ruined.' So, therefore, if you want to go ahead with it, I'm not gonna pay attention to it. So the first thing that happens is people don't pay any attention to these cases. The second thing that should happen is you should look at it and see what the fighting is about. And usually it's about nothing. So basically, what the government's been able to do, because the public's not interested, is create a series of precedents of suits against leakers and other criminal actions against the press. And as this moves from president to president, it has a distinct possibility of getting worse, and worse, and worse."
Whether Goodale believes it's dangerous for the government to define who is and who isn't a journalist.
"Well, the case that's brought against Assange is a dangerous case for the reasons that I've said, that it creates a precedent for 793(e) [of the Espionage Act] for prosecution of journalists, but also, if it succeeds, creates a precedent to criminally indict and convict a journalist who talked to sources on the theory that the two of them are conspiring to violate the Espionage Act. So that would mean a journalist if this case is successful—if such journalists tried diligently to get information from a source, that mere effort might become criminalized. So what the government is doing is saying, 'Okay, you Mister Journalist, you're okay if you sit there and somebody dumps a big pile of classified documents, but if you use any of your creative energy to try to get it, you're a criminal. So effectively, what the government is saying: A journalist is a journalist if he sits on his duff and sits in his chair. When he gets up and he tries to get information, he goes to jail."
---
To learn more about how an archaic law has been transformed into a weapon targeting the free press, listen to "Espionage Act & The Battle For The Free Press."